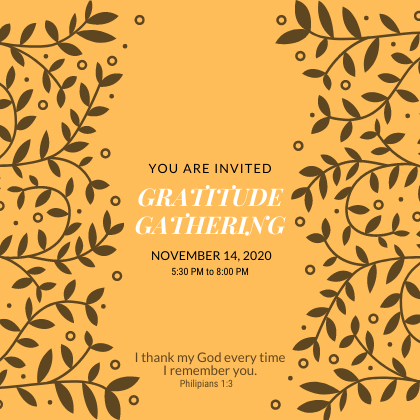 November 14, 2020
Gratitude Gathering Fall Fundraiser
Time: 5:30 PM – 8:00 PM
At: Siouxland Christian School
This year we are choosing to recognize and celebrate the goodness of God. Among the many things we are grateful for, first among them is YOU!
"I thank my God every time I remember you." Philippians 1:3
This year we will be featuring a sit down, plated dinner for our guests. We hope you are as excited to join us for this dinner as we are to share it with you. As you RSVP, you will be prompted to select your main course item.
For our Fundraising portion of the evening, we will be having a Silent Auction featuring exquisite cakes created by both professionals and experienced bakers. Winners of the Cake Auction will receive their cakes during dinner so that they can enjoy their fabulous dessert right after dinner, or they can save it for later. We'll make sure to have cake boxes ready for anyone wanting to take their cake(s) home.